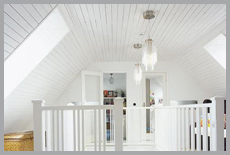 Whether you are a realtor, attorney, property manager or resident, contact us today at (866) 207-2658 for quick, effective action on your mold concerns. We accept Visa, MasterCard, AMEX and Discover.
Attics
Problems in the Attic
Attic spaces are often neglected when it comes to maintenance. This is why it's often a surprise to homeowners when molds are discovered during an inspection.
Poor ventilation and/or roofing issues are the main causes for attic mold. While mold is not as serious (from an adverse health concern) as it is in basements or crawl spaces (because spores and volatile organic compounds fan upward), it is still a hazard you want to correct. The longer the molds stay uninhibited, the more structural integrity issues arise, increasing remediation costs.
Insulation and ventilation are key concerns when it comes to attic mold. A properly ventilated attic will not only avoid costly mold problems it will add value to your home long term.
In fact, you can double the life of your roof, save up to 45% in heating and cooling bills and reduce ice damming by as much as 90%. That's big savings that come along with long term, worry free maintenance concerns.